40 Years Forward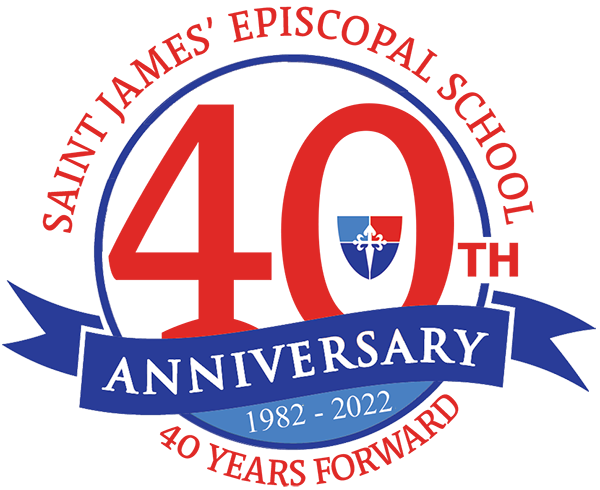 Saint James' Episcopal Church and School will spend 2022 celebrating our school! It's our 40th anniversary and our theme is Forty Years Forward: SJES's 40th Anniversary, reflecting the excellence and achievement of our school community, which serves as the foundational building block for our work over the next 40 years.
To commemorate this milestone year, we have planned several events to celebrate and connect with our SJES community. There will be many ways to participate. Our social media channels, 40th anniversary webpage, and print invitations throughout the year will keep you informed on how you can celebrate with us.
We will launch our 40th anniversary celebration on Tuesday, January 25, 2022, the "half-birthday" of the Feast of Saint James, with an all-school birthday celebration for our students, faculty and staff. On Sunday, January 30, we will celebrate with Saint James' Episcopal School Sunday at the 10AM service in Saint James' Episcopal Church.
Other planned celebrations include: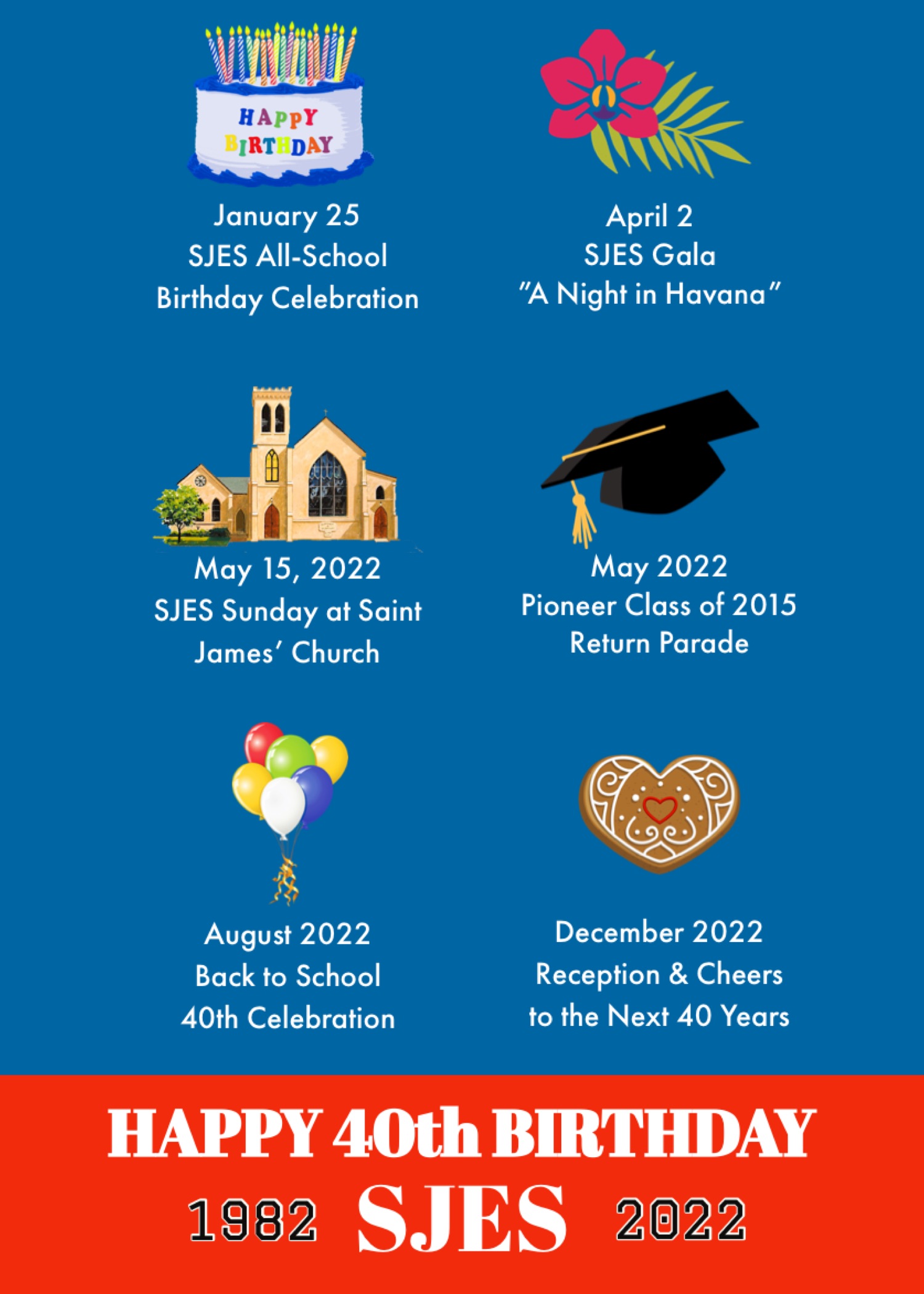 Forty Years Forward: SJES's 40th Anniversary is a special year in which we will celebrate our 40 years of progress as a community and focus on the future of our school. Read letters of congratulation from community members.
---
Whether it is a current or former SJES student, parent, board member, or staff member, each one has played a vital role in the school's legacy. SJES STORIES realize the appreciation for SJES's mission, which is as vital now as it ever was before. Submit your own story on our STORY SUBMISSION FORM and check back here often for updates throughout the year.
---
Ann Fletcher Sentz, original founder of Saint James' Preschool (1981-1988), former SJES parent and current SJEC parishioner
Around 1981, our rector at St. James', Prentice Kinser, had been asking several of us young active church members to help start a preschool at the church. Mr. and Mrs. Kinser had a young daughter at the time and wanted a Christian preschool for her to attend close to home. I believe we were the first church-based preschool in Warrenton at that time. Parishioners Robin Logan, Ann Kehoe, and I, along with friends Nancy Dove and Karen Grogan, formed the original staff of Saint James' Preschool. There were four classes originally in 1982. We all brought in our children's extra toys, indoor sliding boards, climbing toys, outdoor play equipment, furniture, and anything we could sneak away from them. We were on a very tight budget and I remember mixing frozen lemonade/orange juice into pitchers along with serving graham crackers as our usual snack of the day. All the classes ended at noon. It seems that our school was such a welcome addition to the area that our reputation quickly grew, followed by growth on a regular basis. It is very gratifying to see the level of excellence that Saint James' Episcopal School has achieved over these forty years. The school has grown from very humble beginnings to a place of pride within our church and community.
---
Sherry Kunkle, former Saint James' Preschool Director (1992-2009), former SJES teacher (1985-1992), former SJES parent
Some of my fondest memories as a teacher at Saint James were times spent with the children and parents during special activities, programs and during drop-off and pick-up times. Sharing with the parents about their child's development and seeing their enthusiasm was very rewarding. As Director, some of my fondest memories were of the Thanksgiving and Christmas programs. It seemed the children captured the essence of the season. They were excited, they sang and performed with their whole hearts and were adorable in their costumes. Their parents, it seemed, were just as excited and were so proud to see their little ones perform. It was a fun time for all. There are so many memories, but the greatest memories are of all the teachers and staff at Saint James and the wonderful families I had the opportunity to meet and get to know. The Saint James' teachers and families were always so loving, supportive and kind. I have been blessed to be a part of such a caring community.
---
Sharon May, Former preschool teacher, former SJES parent, and current SJES grandparent
When deciding on a preschool for my children, I wanted a place filled with love. While I wanted them to learn, I was more concerned that they felt loved and valued by God and others. Saint James' was that place! Two of my three children attended Saint James' Preschool many years ago. After my children left, I was hired as a 3-year-old teacher where I remained for 25 years. Year after year, the school was filled with the most special children and families. I have so many wonderful memories! I remember hallways turned into Rain Forests, the many holiday programs, Chapel songs, birthday crowns and a staff that truly loved children. While I have recently retired, my granddaughter is in her second year of preschool there and my grandson will be attending next year. I am so thankful that they too have and will feel loved and valued just as my own children did. Saint James' will always be very near and dear to my heart.
---
Lorraine Gattuso, Former preschool teacher, former SJES parent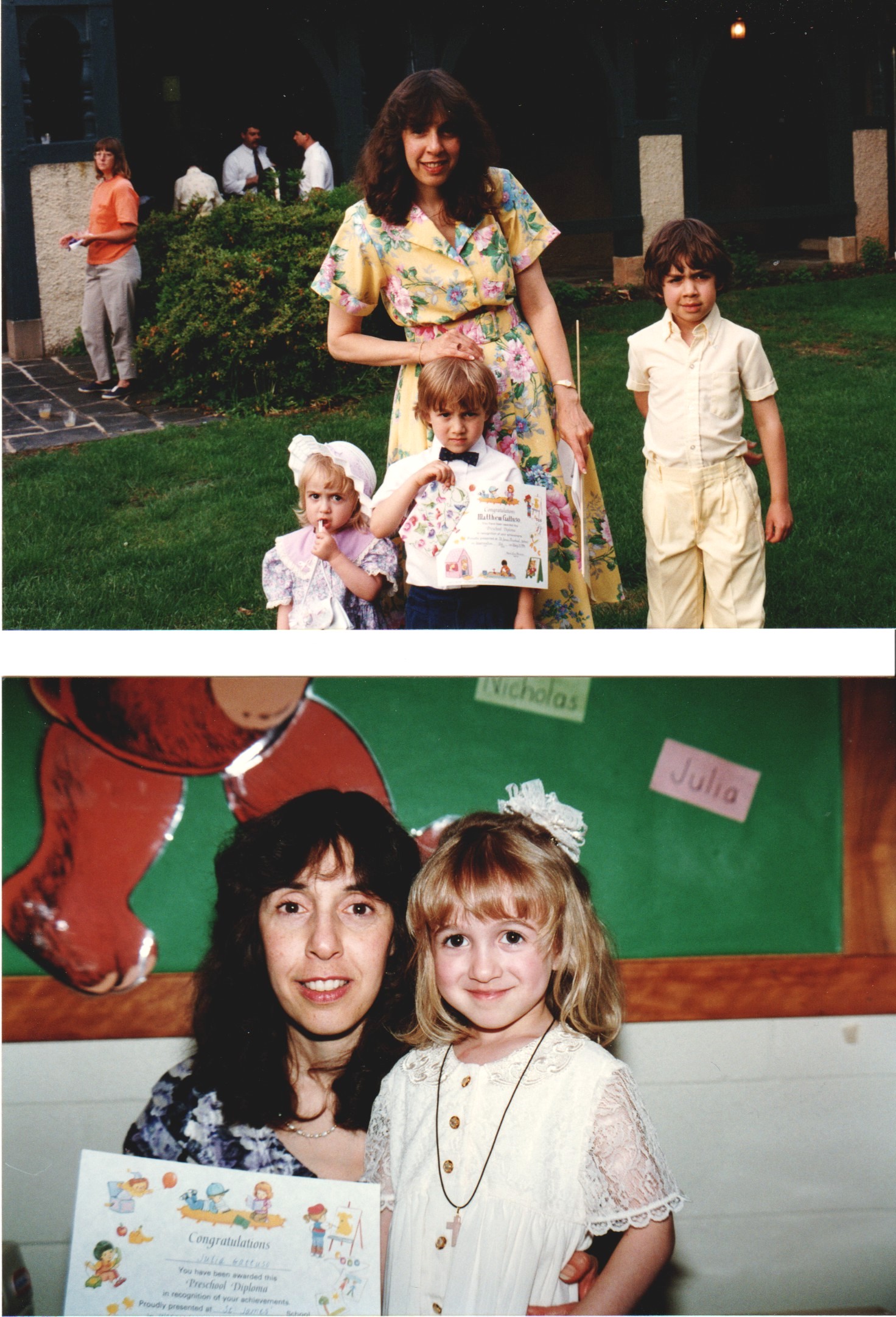 Saint James' Preschool was a legend that we heard about as soon as we moved into the county so many years ago. Unfortunately, our oldest son was unable to procure a spot, but our second son and daughter were blessed to be enrolled, and then the magic began. One of the most memorable and important events in my life began on Columbus Day in 1996, when I was called into the office by the then Director, Sherry Kunkle, and asked if I would like a job helping out in the preschool for two days a week. Having already experienced this magical place through my own children, where every child was nurtured, loved, respected and encouraged in such a joyful, Christian environment, I readily accepted. The years were filled with the wonderful magical memories of my dear "Chickadees" and their families, and the blessings of watching them grow and develop, spreading their wings to fly to new horizons. The staff became like family, and the school became a second home. When my daughter graduated from her Pre-K class, I cried my eyes out, then cried buckets more twenty-five years later, when the difficult decision to retire from the best job in the universe was made. However, the magic of Saint James' lives always in my heart.
---
Josh Griffin, Saint James' Preschool Class of 1983 alumni, former SJES parent and current SJES board trustee
I have lots of fond memories of SJES, but one common thread is the Thanksgiving program. It never changes, which is wonderful. I've experienced it from a lot of angles: As a parent, sitting in the audience so proud of each of my kids, watching them beam with excitement and joy; as a staff spouse, helping my wife get ready for the big day; as a staff child, helping my mom cut out, decorate and cook; and, almost 40 years ago, as a student the first year the school opened. Nervous and excited, not knowing we were creating traditions our own children would be a part of. SJES is marked by those traditions, and a commitment to building young people in knowledge, character, and most importantly, faith. I'm so thankful to be a part of that legacy.
---
Lauralee Maas, SJES Class of 2019 alumni
When I was younger, I would always look forward to getting to run Mr. Economic's Christmas shop. The fifth graders ran it, and the fourth graders would help. Every grade got to contribute. In art, we would make decorations and crafts to sell. In Spanish, we made lemonade, sopapillas, and other crafts. Mr. Economics would come and visit each classroom and teach us about spending money. We got a certain amount of money to spend at the shop and we could either spend it all the first day or you could save it for the second or third day to get interest. It was a super fun, memorable activity and it taught us about economics.
---
Elliott Maas, SJES Class of 2017 alumni
It is not exactly a specific memory, but what I liked about Saint James' was how we had one class through all five of my years there and we were with each other all day. It formed many friendships and bonds. I am still very close to most of my classmates from SJES to this day.
---
Scott Christian, SJES Board of Trustees Chairman, former SJES Second Grade teacher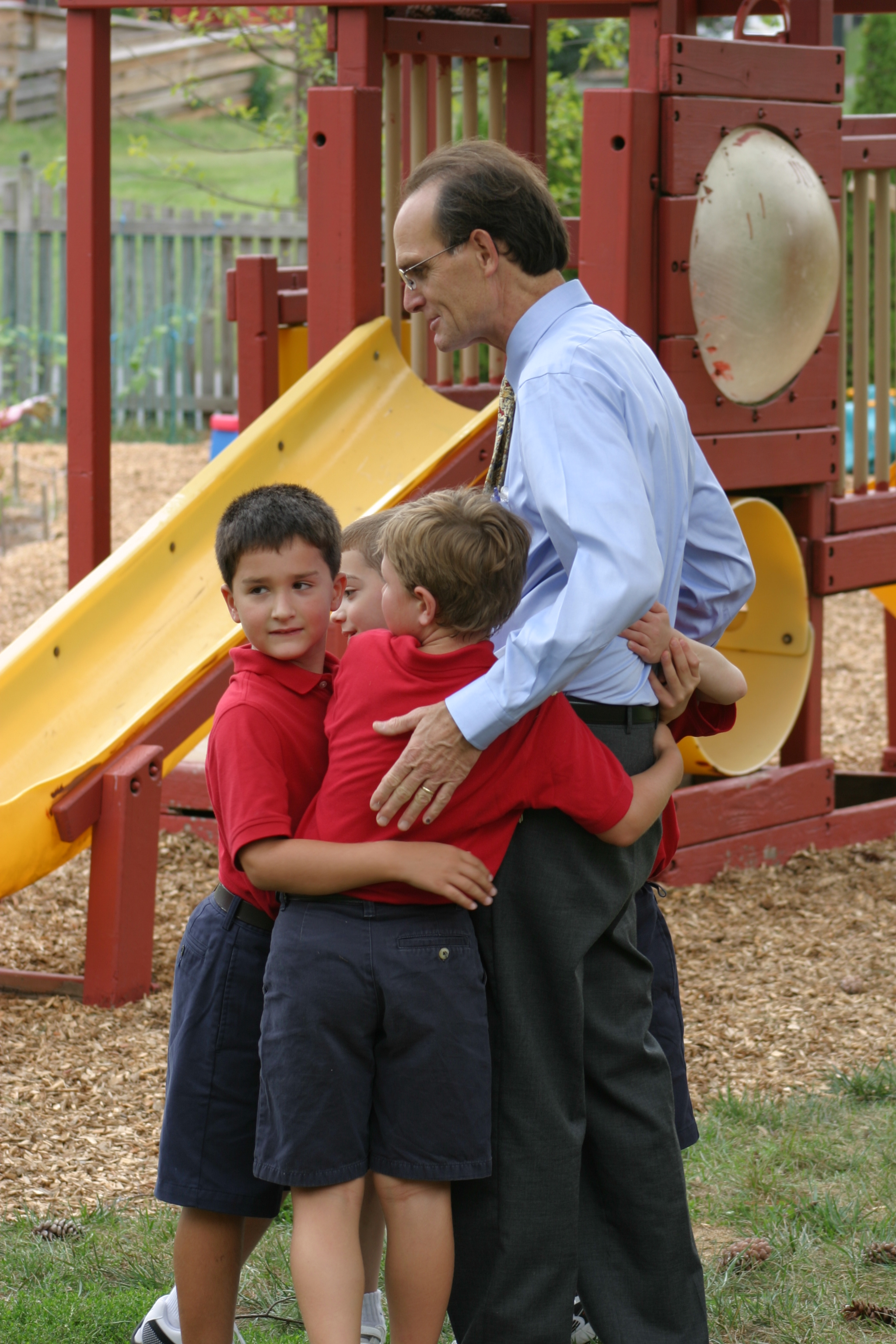 In 2011, I had been teaching both first and second grades in the Prince William County school system for seven years, and for the last four of those years I had been job sharing with a woman who wanted to work part-time. She had recently informed me that she wanted to work full time in order to save money for her children's college education, so I was left wondering what I would do next.
Later that spring, I was sitting at my desk one morning preparing to read and pray on one of the lectionary readings for the upcoming Sunday. They are printed on the previous Sunday's bulletin, which I had mistakenly placed in my recycling can. As I grabbed the bulletin, the first thing I saw was an advertisement for a second grade teaching position at the School.
As a new member of the Church, I knew nothing about the School, but I had attended an Episcopal school for thirteen years. It has had a powerful long-term effect on my life, so that morning I emailed Stacey Irvin to express my interest in the second grade position. I explained that I was looking only for part-time work, and I described my collaboration with the teacher in Prince William County, including how the parents and the school administration thought it was a great experience for the children.
Never having tried this before, Stacey wasn't convinced, but she did go and talk to Lori Working, a preschool teacher who had expressed interest in elementary. Lori and I met, we clicked, and with Stacey's blessing we began planning for the inaugural second grade, which was being added in August 2011 for the Pioneer Class of 2015. Lori and I had a great run together for four years, and I was also pleased to have worked with the other teachers to develop the math and science curricula, as well as to have collaborated with Fr. Ben on the elementary religious formation curriculum. I retired fully from teaching in 2015, joined the School Board in 2019, and have been the Chair since 2020. I can't let go, and I give God thanks regularly for the gift of being part of this wonderful School.
---
Aileen Laing, Saint James' Episcopal Church parishioner, former Saint James' Episcopal School Board trustee
Education runs as deep in the walls of St. James' as it does in my memories of the place. When I entered Calvert (now Highland) School's first grade in 1942, my classroom was in what is today the Reception Room. My first public speaking endeavor (also in first grade) was to stand in the pulpit of the Church and recite one of the verses from Genesis. After a long career in education, I retired and was asked to serve on the Board of St. James' Episcopal School as it was transitioning from a preschool to pre-K through fifth grade. It is a delight to me to see the children today feeling as at home in the Church as they do in the hallways of the School.