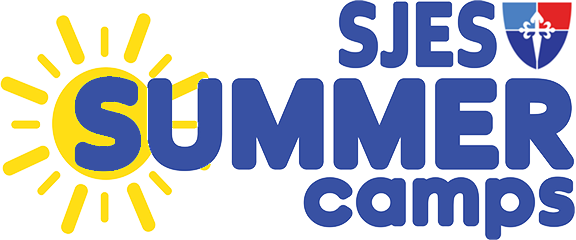 ---
The mission of the Saint James' Episcopal School Summer Camp program is to provide opportunities where children can discover and learn while creating fun, exciting and adventurous experiences. Our preschool camps are designed for rising preschool and kindergarten children, ages 3 - 5. All preschool campers must be potty-trained and able to use the restroom facilities independently. Our elementary camps are designed for children ages 6 - 11. Children do not have to be SJES students to enjoy our summer camps!
Campers need to bring a snack and water bottle each day. SJES is a peanut and tree-nut sensitive campus. We ask all campers to please refrain from bringing food containing nuts or food that is processed in facilities that may contain or are exposed to nuts. All allergy and food restrictions need to be noted in the space provided in the registration process and will be addressed in detail after the registration is complete.
5/17/2022 UPDATE: All of our preschool camps are now full.
Limited spaces available. Enroll today! >
All camps are 9am-1pm, unless otherwise noted.
Nature Camp at Chapultepec Farm
May 31- June 3, 9am-3pm, $235
Rising 3rd graders- rising 5th graders
Ready for four days of outdoor exploration? Come join us at Chapultepec Farm in Orlean, VA - the property Saint James' students use during the school year to experience learning in the great outdoors. Campers will spend their days hiking to the Rappahannock River, exploring the forest and learning about local wildlife, water conservation, forest decomposers and more. Campers will take the SJES bus to and from Chapultepec Farm from the school. Campers must be dropped off at 9am and picked up at 3pm at SJES.
Magical Garden Camp FULL
June 6- 10, 9am-1pm, $155
Rising Kindergarteners- 5th graders
Campers will spend the week in the school's new wildlife garden, getting to do all things green! Campers will plan and prepare for a Friday interpretive dance performance, make creative houses for all sorts of wildlife, create stories about wildlife from all over the world, and brainstorm sustainable activities they can complete at home.

Dive into Math and Reading
Rising Kindergarteners and First Graders
July 18- 22, 9am-1pm, $185
Campers will embark on a deep dive of crafts, reading, math and writing activities to get a jump start on the new school year. Campers will be immersed in language with books, letter recognition, letter sounds, and beginning reading skills. We will be emphasizing proper formation of letters and numbers, correct pencil grip, and scissor skills. Math skills will be strengthened with number recognition, one to one correspondence, pattern recognition, and graphing. Your child will gain confidence and have a whale of a good time!
Self Expression Through the Arts
Rising 2nd- rising 5th Graders
August 1-5, 9am-1pm, $155
Campers will leap into the creative unknown, but not without some guidance from artists, poets, composers and an acting coach! Campers will create a large sculpture and a painting. They will also collaborate on script writing and hone their acting skills. As they will learn a multitude of ways to express themselves, campers will be introduced to art history and great literature.