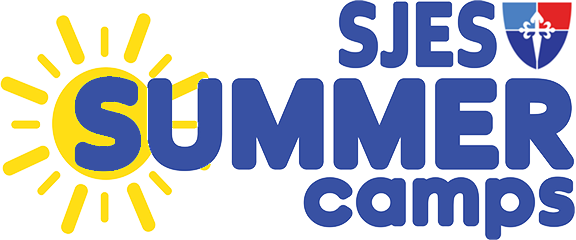 ---
The mission of the Saint James' Episcopal School Summer Camp program is to provide opportunities where children can discover and learn while creating fun, exciting and adventurous experiences. Our preschool camps are designed for rising preschool and kindergarten children, ages 3 - 5. All preschool campers must be potty-trained and able to use the restroom facilities independently. Our elementary camps are designed for children ages 6 - 11. Children do not have to be SJES students to enjoy our summer camps!
Campers need to bring a snack and water bottle each day. SJES is a peanut and tree-nut sensitive campus. We ask all campers to please refrain from bringing food containing nuts or food that is processed in facilities that may contain or are exposed to nuts. All allergy and food restrictions need to be noted in the space provided in the registration process and will be addressed in detail after the registration is complete.
Before Camp and After Camp Care
SJES Summer Camp Extended Day program offers families the flexibility to drop off campers before the camp day begins, starting at 8AM as well as extending their camp day until 5:00PM. Before and After Camp care is one program for both preschool and elementary students and is offered when our minimum enrollment has been met. All camp ages are welcome. Please call 540-347-3855 for availability.
All camps run 9am-1pm unless otherwise noted. Limited spaces available. Enroll today! >
Down on the Farm
July 12 - 16
Preschoolers will learn all about farms this week. We will focus on animals that live on the farm and the job of a farmer. Led by preschool teachers SJES Mrs. Anderson and Mrs. Henry.
Lego Fun
July 12 - 16
July 19 - 23
Join us for a week of fun with Legos! We will be learning basic engineering skills all while creating buildings, airports, a race car track, cities and more! The sky's the limit with Legos! Led by SJES preschool teacher Kelly Kott. You can sign up for one week or both!
Mermaids & Pirates
July 26 - 30
An adventurous week of crafts, games, treasure hunting and imaginative play. We will encounter pirates, mermaids, sea creatures and more. Led by SJES preschool teachers Mrs. Anderson and Mrs. Henry.
Animal Adventures
August 9 - 13
We will take a walk on the wild side as we travel around the globe investigating all types of wild animals and habitats. Led by preschool teachers SJES Mrs. Anderson and Mrs. Henry.
Preschool Art
August 2-6
Discover the wonderful world of art and learn about famous artists such as Pollock, Monet, and Van Gogh. Campers will create their own "masterpieces" and many other fun (and sometimes messy) art projects! Led by SJES preschool aide Mrs. Gilbert.
Preschool Olympics
August 16 - 20
Get ready to go for the gold in our Olympic-themed camp. Children will have fun learning about the Olympics and participating in different sports. Who knows, we may have a future Olympian on our hands! Led by SJES preschool teacher/elementary PE teacher Erin Black.
Limited spaces are available. Enroll today! >
Limited spaces available. Enroll today! >
All camps are 9am-1pm, unless otherwise noted.
Rising K and 1 Camper Sampler
July 19-23
We will immerse your camper in language with books, letter recognition, letter sounds and beginning reading skills. We will be emphasizing proper formation of letters and numbers, correct pencil grip and scissor skills. Math skills will be strengthened with number recognition, one to one correspondence, pattern recognition and graphing. Your child will gain confidence and have fun while getting ready as they leap to their next level. Led by SJES kindergarten teacher Laura Harmon and SJES first grade teacher Laurie Mayer.
Performing Arts Camp
August 2-6, 9am - 12pm
Campers will embark on a creative journey, exploring acting and story-telling, songwriting and character creation. They will plan and prepare for a Friday performance of their creative works in our outdoor theater space in the far field. Campers will bring to life a story about environmental awareness and the way humans learn to love wild things and our collective home, Earth. Led by SJES elementary visual arts teacher Rebecca Quinn.
Self Expression through the Arts
August 9-13
Campers will leap into the creative unknown, but not without some guidance from artists, poets, composers and acting coaches! Campers will be given the opportunity to create a sculpture and a painting. They'll also collaborate on songwriting and hone their acting skills! As they learn about a multitude of ways to express themselves, campers will also be introduced to art history and great literature. Led by SJES elementary visual arts teacher Rebecca Quinn.